Well, I'm partaking in a new vintage adventure. I've had a set of T-Fal non-stick cookware for the last 15 years or so, and it's seen better days. Soooo, after looking around at the cookware that's offered now, I found it not only cost prohibitive, but storage prohibitive too. As people who live in small houses know, storage space is at a premium. Soooo, I started looking into vintage cookware and discovered Guardian Ware!
It's one of several brands of aluminum cookware that were on the market from the 30's through the 60's. It's supposed to be waterless cookware, which apparently means that you rinse whatever you're going to cook thoroughly in water and add just a tiny bit more, but then the domed lids of the cookware encourages a lot of condensation, which then drips down back onto the food. The OTHER benefit is, the handles are detachable, so each piece can stack inside most of the others which should save space. I've found a couple of deals on E-bay recently and have purchased the 1 quart dish,

with the 3 and 4 quart dish on the way. The aluminum makes them light weight and they have a thicker bottom which is supposed to distribute the heat more evenly using a lower temperature.
The down side to these pieces seems to be the large lids, which you have to find storage space for BUT, depending upon which pieces you want, may not be an issue. The 3 and 4 quart dish can also be used as a double boiler, but one lid fits both pieces. This SAME lid also fits a 10 inch breakfast fryer, which is like a skillet and is a piece that I'd also like. So, while a person may have four pots between the 1,3, 4 quart pot and the fryer, there are only two lids involved. Here are some photos of the 3 & 4 quart piece.
These are the two different kinds of handles that fit on them. The first are the tab handles that fit over the metal handles, if you're just using them as a pot and want to carry them with both hands. The second is a clamp on handle that turns the pieces into a more traditional pot or skillet:
I haven't tried mine out yet, I'm waiting for the 3 & 4 quart ones to arrive to begin experimenting. The immediate down side that I see is that if I fry things (which I don't do very often), I have to remember to use a non stick spray. These also have the potential for the inside to turn colors, but there is a recipe using hot water and cream of tartar that makes them shiny again. They clean up very well with a brillo pad ( the little one needed a bit of cleaning when it arrived, and is now bright and shiny). People who use them seem to love them, as they can be used both on the stovetop and in the oven, so I'll be interested to see if they live up to their vintage hype!
There are some HUGE sets of this stuff on E-bay that can cost a pretty penny, such as the ones pictured below, but I think that if I can find and get a deal on the ten inch breakfast fryer, I'll have all the pieces that I need. I'll keep you apprised of the Great Guardian Ware Cookoff when the other pieces arrive!!!!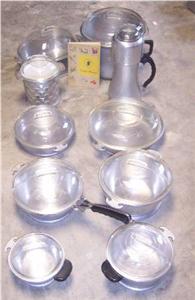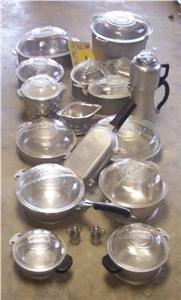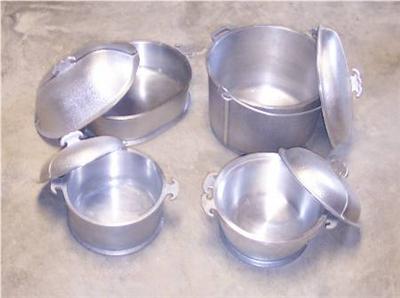 Sara